Removing old wooden balusters and installing new wrought iron balusters is a very simple process. Most simple remodel jobs can be completed in a single day. If you run into any issues using this step by step guide, please email us via the contact page.
Tools Required
Drop Cloth
Reciprocating Saw (or jig saw)
Pliers
Drill & Drill Bit
Tape Measure
Portaband Saw (or chop saw)
Products Required
Balusters
Shoes (if you are using them)
Epoxy (non-drip, clear dry)
Epoxy Gun
Step 1 – Preparing the work area.
Cover all work areas, furniture and decor to protect from the sawdust that will be created when cutting the wood balusters.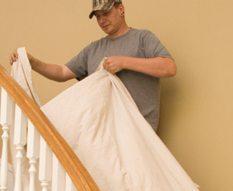 Step 2 – Cutting Old Balusters
Using the Reciprocating Saw or Jig Saw, cut the wood balusters in half.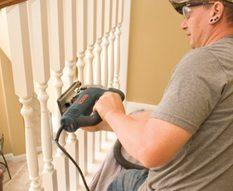 Step 3 – Remove Old Balusters
Once cut, remove the balusters by slowly pushing them back for forth until the nails are worked loose. If nails are left hanging out, use the pliers to wiggle them out.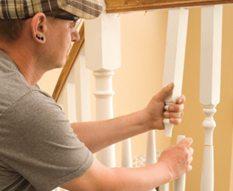 ** If your old wooden balusters are installed with a Dowel Pin and glue, there is a good chance you can break off part of the tread or handrail along with the baluster. You can try to cut as close to the end of the baluster as possible and then grind the rest off to leave a smooth surface, or you can replace the handrail / tread. **
Step 4 – Drilling Holes
This applies if you don't already have holes from your wooden balusters.
Drill an appropriate size hole for your balusters top and bottom. (If you don't want to use shoes to hide leftover gaps with square balusters, you can use a mortising bit and punch out a square hole instead.)
Drill 1 inch to 1.5 inch deep up into the handrail. Drill 1/4 inch to 1/2 inch into the tread / floor. (Use your best judgement as you should know the material you are installing into.)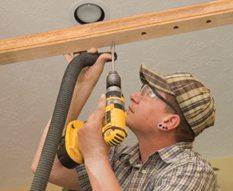 Step 5 – Cutting Iron Balusters to Size
Measure and cut your balusters 3/4″ longer than the distance from the bottom of the handrail to the top of the base (tread/floor). This gives you enough room to slide the baluster up into the rail and then drop it down into the hole. A Portaband saw or chop saw with metal cutting blade are the best methods to cut wrought iron balusters.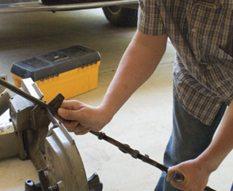 Depending on where you want your pattern to line up, you may cut all from one side or cut some from both sides.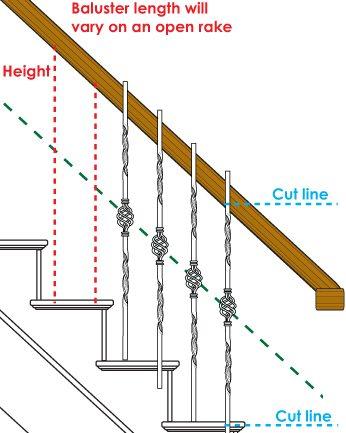 Step 6 – Insert Iron Balusters
If you are using shoes, Add them from step 7 and then insert the iron balusters into the holes.
Slide your balusters into place. Make sure your pattern is correct and everything lines up.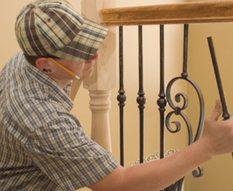 Step 7 – Base Shoes
If using shoes, slide your shoes on now. Apply about a dime size drop of epoxy in the top and bottom holes. After the epoxy has dried, slide the shoes into place and epoxy them as well with just a little dab. Alternatively if your shoes have set screws, you can tighten the screw at this point. Allow up to 24 hours for the epoxy to fully dry.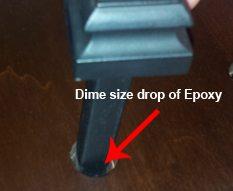 (We recommend always using epoxy for the shoes, as on some hammered products the shoe can appear to leave a larger gap on one side, while with epoxy you can evenly space the shoe around the bar.)