Types of Staircase Treads: The Perfect Fit for Every Home
Staircase treads play a critical role in the aesthetics, safety, and functionality of your stairs. This comprehensive guide discusses four popular types of staircase treads, along with their size options and style recommendations, to help you find the perfect fit for your stair renovation project.
Standard Tread with Bullnose
The standard bullnose tread is a popular choice for those looking to add a classic and elegant touch to their stairs. Its smooth, rounded edge (the bullnose) adds a sophisticated finish to the edge of the tread while ensuring safety and comfort. These treads are versatile and suitable for both straight and curved staircases. Standard bullnose treads are available in a variety of depths (11-1/2″ to 18″), lengths (42″ to 96″), and materials to suit different staircases and design preferences.
Mitered Return Stair Treads
Mitered return stair treads offer a modern touch for open staircases where the tread needs to hang over the edge. The unique design features a bullnose edge that provides a smooth, rounded finish, making it visually appealing and comfortable to walk on. These treads come in a range of sizes, including depths of 11-1/2″ to 13″ (with the return) and lengths of 48″ to 96″, to accommodate various staircase configurations. Mitered return stair treads create a seamless transition between the tread and surrounding flooring, enhancing the overall appearance of your staircase.
Bullnosed Landing Tread
Bullnosed landing treads are specifically designed for landings or areas of a staircase where there is a turn or level change. Often used on open or partially open staircases, these treads provide a finished look and safe walking surface. They feature a bullnose (rounded edge) on one side and a wall on the other, and are typically about 6-1/2 inches in depth, with a 1-inch nosing and a 3/4-inch tread. Bullnosed landing treads are available in various lengths up to 8 feet, and materials, making them suitable for use on a wide range of staircases and outdoor areas like balconies.
RetroFit Stair Tread
Retrofit stair treads are designed for easy installation over existing stairs, offering a convenient solution for updating your staircase without major renovations. These treads, typically made of wood or composite materials, feature a pre-attached nosing and can cover up damaged or worn-out treads, giving your stairs a fresh, new look with minimal effort. Retrofit stair treads provide an efficient way to refresh your staircase without the hassle of completely tearing out and replacing the existing treads.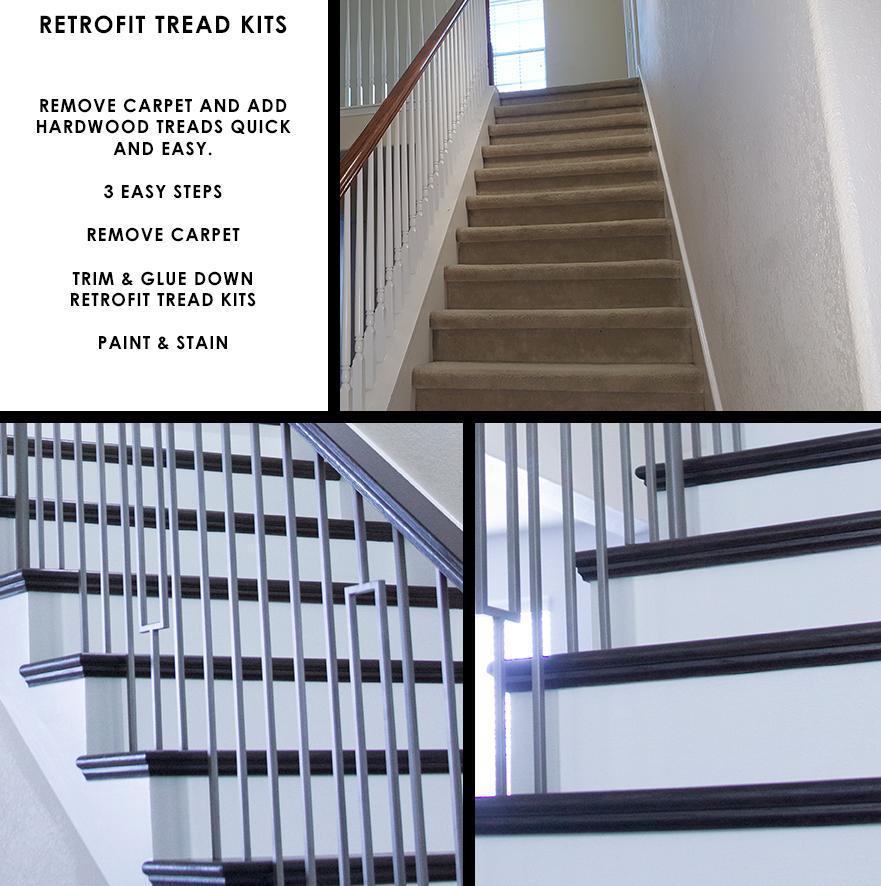 Each type of staircase tread offers unique benefits, sizes, and styles that can complement your home's aesthetic. By understanding the features, advantages, and size options of each, you can make an informed decision and choose the perfect treads for your stair renovation project. Whether you're seeking a classic touch, a modern edge, or a convenient update, there's a staircase tread type that's ideal for your needs.